on
September 30, 2016
at
11:34 AM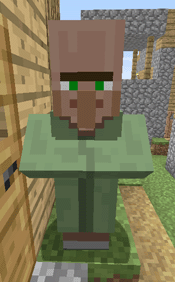 Yes, Minecraft is working on a new version, so if you want to try out their latest ideas and concepts, set your game launcher to play the snapshot versions, start a new world, and get busy. Doing what, you might ask? Well, the next update is called "The Exploration Update," so the emphasis is on finding things (unlike before, right?).
There's a new villager available who has the profession of "Cartographer." Shower them with emeralds and you'll unlock the ability to buy maps that lead you to treasure in the form of an Ocean Monument or a Woodland Mansion. The latter location is new, and it's not going to be a cakewalk to overcome. It contains the Star Trek dark universe version of the Minecraft Villagers, the "Illagers." They consist of the Vindicator, whose anti-social behavior involves using an iron axe on visitors, and the Evoker, a boss-level wizard-person who can summon sword-wielding ghosts and make fang-jaws rise up from the floor. It also runs away when not attacking, so some herding tactics might be required. It drops a Totem of Undying which does what it says on the tin: If you're holding it when you take enough damage to get killed, the totem will not only prevent said death, it'll regenerate some of your health.
In other Minecraft magic stuff, they've introduced "The Curse of Binding," which goes by the old 1st edition AD&D rules: You put it on, you're stuck with it until you die. The other curse can apply to any enchantable item, and it's the "Curse of Vanishing," which means if you die, it disappears, making the usual corpse-run a moot point for that particular object.
A new animal is in the game: Llamas! And in the words of a certain cartoon genie, "Watch out, they spit." They can also haul chests, have variable hauling capacities, and will line up to form Llama-trains if you want. You can finally have that cargo caravan you've always wanted, but please try to resist singing the internet-spawned Llama-Llama-Duck song while doing so.
There are new Shulker Boxes that can be crafted from mob drops in The End. They behave like normal chests, except they keep their contents when you break them, making loot transporting easier than ever! Because I need a jillion cobblestone and throwing parts of the world away is wasteful!
Lastly, another villager is in this snapshot, and the image accompanying this post is a photo of one. They're referred to as "The Nitwit," and they're kind of village-filler. They don't have a profession, so they kind of just take up space that could otherwise be occupied by a more useful villager. I don't know if this is to make villages seem more realistic from the point of view that not everyone would have a job, or perhaps there'll be a way to give professions to these "blank" green-robed NPCs. I have a feeling those who find villages filled with too many of these layabouts might suddenly notice that "someone" put a small hole filled with lava near the village that everyone wearing green just "happens" to fall into. It's also possible they're an added challenge, since if it's getting dark out and you hear moaning nearby, a green robe can look a lot like a zombie, and then the world can start to look like an Iron Golem smashing your head in for putting a sword through a citizen.
Anyway, have fun and I'll just live vicariously through my son who will no doubt want to boot me off of my computer the second he hears about this.