on
April 16, 2018
at
10:40 AM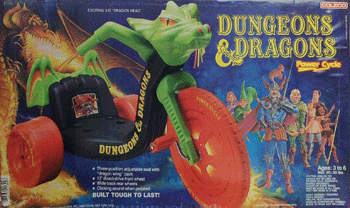 • Coleco put out a series of Big Wheels Power Cycles in the 80's, one of which was Dungeons & Dragons themed! I now have a new first item on my "What to do if I get a time machine" list. Some trivia: The characters pictured behind the cycle in this post's image appeared in the old Dungeons & Dragons cartoon, including the one in the front. He's a paladin named "Strongheart," and in addition to having his own action figure and appearance in a D&D video game from CAPCOM, he was in the 8th episode of the cartoon's first season, "Servant of Evil.".
• If you're like me (and I know I am), you probably never ran across a rare bit of D&D gaming gear called the Fighting Wheel Gaming Aid. It's a circular device made of three plastic wheels that let you quickly determine combat stats for "Fighters, Rangers, Paladins & Bards." Supposedly, wheels for other classes were going to be developed, but due to low sales, they were scrapped.
• Back when the FBI was investigating the Unabomber case, they thought it'd be a good idea investigate a group of D&D players. Apparently, one of them had made some statements to the FBI in another investigation, and that set off this bit of tabletop gaming history.
• And if you're into electronical DIY projects, here's how to make your own digital d20, complete with graphics for critical hits and fails.